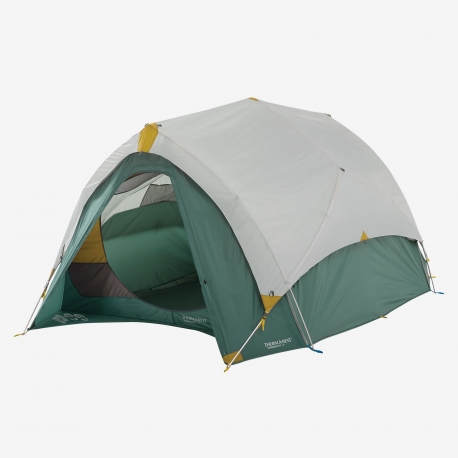 View larger
Namiot kempingowy Thermarest Tranquility 4
09193
Namiot kempingowy dla czterech osób. Luksus na biwaku - poczuj się jak w domu. Namiot, który można zabrać na wakacje i spędzić je na kempingu w ciepłych krajach. Dla całej rodziny.
0 Item Items
Wysyłka w terminie 14 dni.
Warning: Last items in stock!
Availability date:
By buying this product you can collect up to 518 loyalty points. Your cart will total 518 loyalty points that can be converted into a voucher of 103,60 zł.
More info
Czteroosobowy, rodzinny, luksusowy kempingowy namiot. Wolnostojący, można go używać w trzech kombinacjach - sypialnia połączona z tropikiem, sama sypialnia - wariant na upalne dni i noce oraz wersja dla minimalistów - sam tropik postawiony na dostępnym osobno podkładzie.
Wnętrze namiotu jest wysokie, może się tam wyprostować dorosła kobieta. Wejścia są wygodne i nie trzeba się schylać przy wchodzeniu. We wnętrzu mieszczą się cztery materace o rozmiarze Regular, trzy materace o rozmiarze Large i dwa materace o rozmiarze XL.
Namiot Tranquility 4 oferuje dodatkowe rozwiązania:
Namiot można dodatkowo przykryć dostępnym osobno daszkiem - tarpem Tranquility 4 Wing, tworząc większy daszek nad przedsionkami i bokami namiotu.
W środku można powiesić wygodny, wodoodporny pokrowiec na tablet Media Center, pozwalający na obserwowanie pogody lub wyświetlanie filmów w deszczowe dni.
Ilość osób: 4
Wejścia 2
Waga: 5.19 kg / 5.64 kg (minimalna/całkowita)
Powierzchnia podłogi: 4.5 m2
Powierzchnia przedsionków: 2.6 x 2 m2
Wymiary sypialni: 2.13 x 2.13 m
Wymiary przedsionków: 0.27 x 2.13 m
Wymiary po spakowaniu: 18 x 28 x 50 cm
Wysokość maksymalna sypialni: 1,63m
Stelaż: 3 pałąki, aluminium serii 7000, średnica 11 mm,
Rodzina namiotów Tranquility:
od zewnątrz:
namiot jest wysoki tak, że można w nim stanąć, dzięki stelażowi w kształcie litery A
dwa duże przedsionki ,mają miejsce na stawianie butów i obszerne kieszenie do przechowywania sprzętu
łatwy do rozstawiania stelaż namiotu - aluminiowe rurki o przekroju 11 m są umieszczone w rozgałęziających się na pięć gniazdach
na tropiku umieszczone są zaczepy i porty do montażu paneli słonecznych
tropik o o woodporności 6000 mm ma podklejone szwy i jest bardzo wytrzymały
siatkowe wejścia są duże i wygodne do komunikacji
namiot pakuje się w wygodny do przenoszenia plecak z klapą zapinaną na paski
od wewnątrz:
wiele dużych, siatkowych kieszeni do przechowywania
podłoga o wodoodporności 10 000 mm jest powleczona poliuretanem i bardzo odporna
na dachu znajdują się okna z siatki, dla lepszej wentylacji