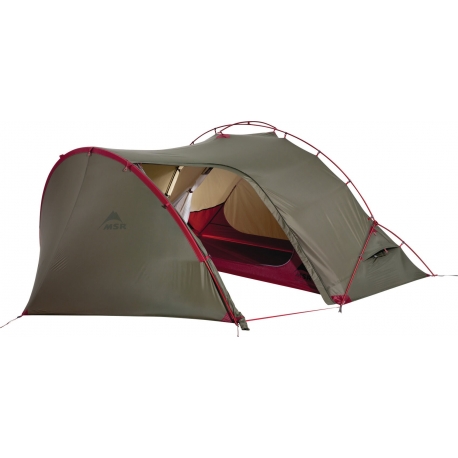 View larger
Namiot MSR Hubba Tour 1
Nowy namiot z rodziny Hubba, przeznaczony dla rowerzystów i pieszych turystów. Duży przedsionek pozwoli na przechowywanie roweru lub dużej ilości bagażu. Zewnętrzny stelaż pozwala na komfortowe rozbicie namiotu w deszczu. Teraz dostępny w dwóch kolorach - zielonym i szarym.
4 Item Items
Produkt w magazynie - wysyłka natychmiast!
Warning: Last items in stock!
Availability date:
By buying this product you can collect up to 467 loyalty points. Your cart will total 467 loyalty points that can be converted into a voucher of 93,40 zł.
More info
Namiot turystyczny z dużym przedsionkiem. Pomieści rower lub bardzo dużo bagażu. Przeznaczony dla samotnego rowerzysty lub turysty z dużym bagażem. Ten namiot to hybryda namiotu Hubba NX oraz doczepianego przedsionka Gear Shed. Połączenie tych elementów dało w efekcie namiot z wygodną sypialnią oraz ogromnym przedsionkiem, który pomieści wiele bagażu.
Przedsionek, rozpinany na osobnym pałąku, w części jest wyposażony w podłogę, która uchroni bagaże od błota, piasku i wody. Dodatkowe drzwi z siatki ochronią przed owadami i zapewnią wentylację w cieplejszych warunkach.
Sypialnia jest uszyta z pełnego materiału, ze wstawkami z siatki wentylacyjnej. Podłoga namiotu zachodzi wysoko, chroniąc przed deszczem i wiatrem. Na ściankach naszyte duże kieszenie siatkowe, które pomieszczą kask oraz drobiazgi.
Zewnętrzny stelaż pozwala na komfortowe rozstawienie namiotu także w deszczu. Namiot można używać także po odpięciu sypialni.
Ilość osób: 1
Wejścia 1
Waga: 2.03 kg / 2.32 kg (minimalna/całkowita)
Wymiary sypialni: 0.86 x 2.23 m
Wymiary przedsionka: 1.47 x 2.23 m
Wymiary po spakowaniu: 53 x 17 cm
Wysokość sypialni: 0.96 m
Powierzchnia sypialni: 1.95 m2
Powierzchnia przedsionka: 2.32 m2
Objętość sypialni: 765 L
Objętość przedsionka: 1592 L
Stelaż: 2 pałąki, aluminium 7000
Śledzie: Needle, 9 sztuk
Odciągi: odblaskowe, 4 sztuki
Materiały:
Tropik: 20D ripstop nylon 1200mm Durashield polyurethane & silicone
Sypialnia: 20D nylon ripstop i 15D nylon mesh
Podłoga: 30D ripstop nylon 3000mm Durashield polyurethane & DWR