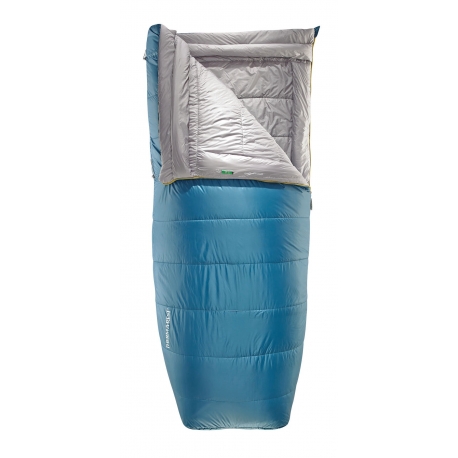 View larger
Śpiwór syntetyczny Thermarest Ventana Duo
09192
Śpiwór syntetyczny Thermarest, który może być jednoosobowy lub dwuosobowy. Śpiwór nie ma kaptura i jest przeznaczony do użytku w sezonie letnim.
Rozmiar L.
0 Item Items
Wysyłka w terminie 14 dni
Warning: Last items in stock!
Availability date:
By buying this product you can collect up to 251 loyalty points. Your cart will total 251 loyalty points that can be converted into a voucher of 50,20 zł.
More info
Śpiwór syntetyczny Thermarest, który może być jednoosobowy lub dwuosobowy. Śpiwór ma odpinane "plecy", które są jednocześnie prześcieradłem zakładanym na dwa połączone ze sobą materace. W takiej konfiguracji śpiwór jest kołdrą, pod którą mieszczą się dwie osoby. Po odpięciu prześcieradła śpiwór można spiąć, tworząc jednoosobowy, ciepły śpiwór bez kaptura. Ściągacze na wysokości pasa oraz ramion nie pozwalają na uciekanie ciepła w zimniejsze noce. Naokoło brzegu śpiwora znajduje się kołnierz termiczny, tworzący dodatkowe ocieplenie dla szyi.
Odpinane prześcieradło tworzy podkład pod plecy dla dwóch osób i nie będzie zsuwało się z dwóch połączonych materacy w rozmiarze L, ponieważ zakłada się je na brzegi materacy. Dodatkowo można go przymocować odpinanymi taśmami, aby śpiwór nie przesuwał się po materacach.
Syntetyczne wypełnienie HollowFiber to materiał poliestrowy, znakomicie kumulujący ciepło ciała. Materiał dobrze się kompresuje do transportu. Syntetyczne wypełnienie nie traci znacząco właściwości po zmoczeniu, pozwalając na w miarę komfortowy sen nawet w wilgotnym środowisku.
Zastosowana technologia ThermaCapture zwiększa komfort termiczny. Technologia ThermaCapture to wbudowane w śpiwór warstwy refleksyjne, które odbijając ciepło generowane przez ciało użytkownika, zwiększają komfort cieplny. W komplecie pokrowiec transportowy odraz worek do przechowywania.
wymiary: 193 (długość) x 177 (szerokość w ramionach, wersja podwójna) x 152 (szerokość w stopach, wersja podwójna) cm
rozmiar po spakowaniu: 38 x 28 cm
na wzrost do 183 cm
waga: 2029 gramów
wypełnienie: eraLoft Hollow Micro Fiber
waga wypełnienia: 920 gramów
temperatura komfortu spania: dla mężczyzn 2 C, dla kobiet 7 C.
Uwaga! Prezentowany na zdjęciu materac nie jest częścią oferowanego produktu.