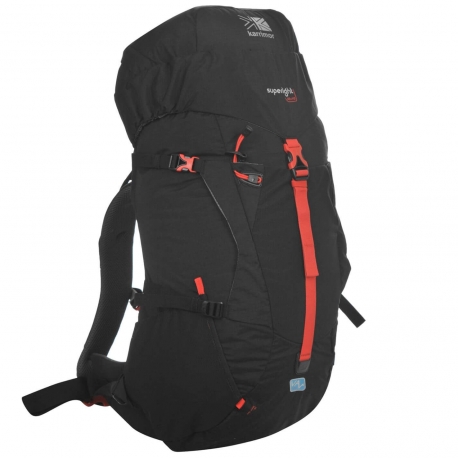 View larger
Plecak Karrimor Superlight 45+10
Bardzo lekki i ekstremalnie wygodny plecak dla każdej aktywnej osoby. Dla turysty, wspinacza górskiego i skałkowego a także dla osób, które w mieście lubią nosić przy sobie dużo rzeczy.
Pojemność: 45+10 litrów.
0 Item Items
This product is no longer in stock
Warning: Last items in stock!
Availability date:
By buying this product you can collect up to 117 loyalty points. Your cart will total 117 loyalty points that can be converted into a voucher of 23,40 zł.
More info
Oryginalny, sportowy plecak znanej firmy Karrimor na całodzienną wycieczkę: dobry do zabrania w góry, na wspinaczkę albo na stok – na narty lub snowboard. Sprawdzi się jako sprzęt wspinaczkowy, wyprawowy, górski, narciarski. Warto go wybrać, jeśli cenisz najlepsze, oryginalne rozwiązania doświadczonego producenta. Dzięki nowoczesnym rozwiązaniom konstrukcyjnym jest bardzo lekki (waży tylko 840 gram!) i atrakcyjny w wyglądzie.
Zalety:
bardzo wygodny i pojemny: duża komora główna, pięć kieszeni dodatkowych
sprawdzony, wygodny system nośny: ultraoddychająca wyściółka Mesh redukuje dyskomfort, odczuwany podczas noszenia plecaka w ciepłe dni
solidne wykonanie: mocne materiały, dobra impregnacja, "mięsiste" części ramion, odporne na zniekształcanie się pod wpływem ciężaru, porządne szwy (wszystkie szwy główne obszyte lamówką, część szwów podwójna)
mocne zamki błyskawiczne i klamry
Konstrukcja:
Pojemność: 45+10 litrów
Waga: 840 gramów
system nośny, bardzo wygodny i lekki: usztywniająca plecy płyta z wyściółką z oddychającej siateczki, profilowane ramiona z wyściółką, szeroki pas biodrowy z wyściółką, regulowany pasek piersiowy
komora główna ściągana sznureczkiem ze stoperem. Dodatkowy pasek z klamrą przytrzyma linę lub skompresuje ładunek.
kieszenie: frontowa, otwarta, duża, wykonana z elastycznego materiału, boczne, otwarte, wykonane z elastycznego materiału, na pojemnik systemu hydro, w komorze, kieszeń w klapie od zewnątrz
do plecaka można się dostać także z boku, za pomocą suwaka umieszczonego pionowo na boku plecaka.
zaczep na czekan lub kijki
Boczne paski kompresyjne
Ucho do podnoszenia plecaka
pokrowiec przeciwdeszczowy umieszczony w kieszonce na dnie plecaka
Odblaskowe logo
Jak używać plecaka Karrimor Superlight 45+10, by dobrze i długo nam służył?
1. Do podnoszenia i przenoszenia plecaka używamy uchwytu transportowego
2. Plecak nosimy na obu ramionach, pas biodrowy powinien być zapięty
3. Wszystkie taśmy i linki mocujące powinny być naprężone, a klamry i zamki pozapinane
4. Zabrudzenia plecaka usuwamy miękką szmatką i letnią wodą, a plamy szmatką i delikatnym środkiem czyszczącym. Paker poleca: Spray Cleaner Granger's
5. Co jakiś czas zalecamy odnowienie impregnacji zewnętrznej plecaka! Paker poleca: Fabsil Universal Protector Aerosol.