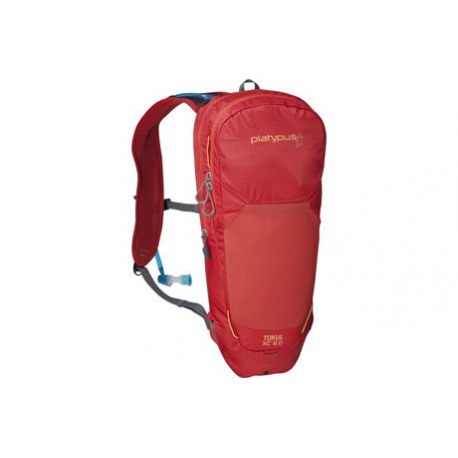 View larger
Plecak turystyczny Platypus Tokul X.C. 8 L
7 Item Items
Produkt w magazynie - wysyłka natychmiast!
Warning: Last items in stock!
Availability date:
By buying this product you can collect up to 71 loyalty points. Your cart will total 71 loyalty points that can be converted into a voucher of 14,20 zł.
More info
Jaki plecak wybrać na rower?
Polecamy oryginalne, sportowe plecaki marki Platypus: to naszym zdaniem najlepszy specjalistyczny sprzęt dla rowerzystów. Wyjątkowo lekki (niecałe 40 dag sam plecak, niecałe 20 dag pojemnik!) TOKUL X.C. 8 L zaprojektowany został przez firmę Platypus, która robi najlepsze plecaki specjalnie dla rowerzystów. To wysokiej jakości sprzęt rowerowy, odpowiedni i dla amatorów, i dla wyczynowców. Wyposażony w duży pojemnik na wodę Platypus 3.0L Big Zip umieszczony w specjalnej kieszeni pozwoli ci nie martwić się o dostępność płynów po drodze. Z tym plecakiem nie musisz przerywać jazdy, by nawodnić organizm, może się po prostu nią cieszyć!
Pojemność: 8 litrów (5 litrów pojemności plus 3 litry w pojemniku na wodę)
Waga: 370 gram (plecak) plus 165 gram (pojemnik na wodę)
Materiał: 210D PU-Coated Diamond Ripstop Nylon, 210D PU-Coated Oxford Nylon, YKK® Zippers
Zalety:
wygodny i pojemny: zmieścisz w nim lekką kurtkę, baton energetyczny, zestaw narzędzi rowerowych, niezbędne drobiazgi turystyczne i dodatkowo zapas płynu na cały dzień jazdy!
kieszenie na drobiazgi i narzędzia
w komplecie duży pojemnik na wodę Platypus 3.0L Big Zip, zapewnia odpowiednie nawodnienie organizmu na cały dzień jazdy (aż 3 litry płynu!)
wykonany z bardzo solidnych materiałów dobrze impregnowany, odporny na wodę i wilgoć
większe bezpieczeństwo na trasie dzięki elementom odblaskowym
Konstrukcja:
Komora główna oraz kieszenie na drobiazgi
Chowany pas biodrowy
Kieszenie: zewnętrzna kieszonka na drobiazgi, zapinana na suwak zewnętrzna kieszonka z elastycznej tkaniny, wewnątrz kieszonka na pompkę oraz dodatkowa kieszeń z siatki, zapinana na suwak specjalna, osobna kieszeń mieści pojemnik na wodę Platypus 3.0L Big Zip
Dodatkowe przegródki na narzędzia
Ramiona i plecy pokryte oddychającą siatką
Zaczepy do mocowania kasku
Elementy odblaskowe
Zaczep na lampkę rowerową