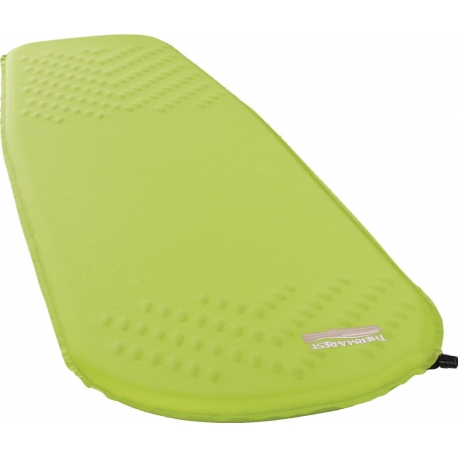 View larger
Materac Thermarest Women`s Trail Lite
09836
Trzysezonowy, samopompujący materac trekkingowy, przeznaczony dla kobiet. Znakomity dla pań chodzących po górach w cieplejszej części roku i chcących wygodnie spać w nocy, pod namiotem lub w schronisku. W nowej wersji zapakowany w zupełnie nowy pokrowiec.
Kolor grasshopper.
8 Item Items
Produkt w magazynie - wysyłka natychmiast!
Warning: Last items in stock!
Availability date:
By buying this product you can collect up to 75 loyalty points. Your cart will total 75 loyalty points that can be converted into a voucher of 15,00 zł.
More info
Trzysezonowy, najczęściej użytkowany przez Panie, samopompujący materac plecakowy Thermarest. Dostosowany do specyficznej termiki kobiecego ciała. Większa ilość gąbki w okolicach klatki piersiowej, bioder i stóp, powoduje zdecydowanie lepszą izolacyjność materaca Trail Lite Women's niż modelu Trail Lite. Zmieniony kształt materaca w okolicach torsu daje więcej przestrzeni do spania. Materac jest perforowany tylko w okolicach głowy i stóp, co podwyższa komfort cieplny.
Materac jest wyprofilowany, szeroki w partiach tułowia, węższy w okolicach nóg. Lekka gąbka znajdująca się wewnątrz materaca jest maksymalnie perforowana. Po napompowaniu, w miejscach perforowanych materiał wierzchni jest wypukły (dużo małych górek), a w miejscach bez perforacji płaski. Dzięki temu śpiwór nie ślizga się po powierzchni materaca. Materac jest wykonany z mocnych, trudnych do przebicia materiałów.
Wyprodukowano w Irlandii.
Materace mają grubość 3.8 cm.
Współczynnik izolacyjności R-value 4.9 i jest wyższy od ich uniwersalnej wersji.
Rozmiar WR:
wymiary: 51 x 168 cm
waga 710 gramów
wymiary po spakowaniu: 28 x 15 cm