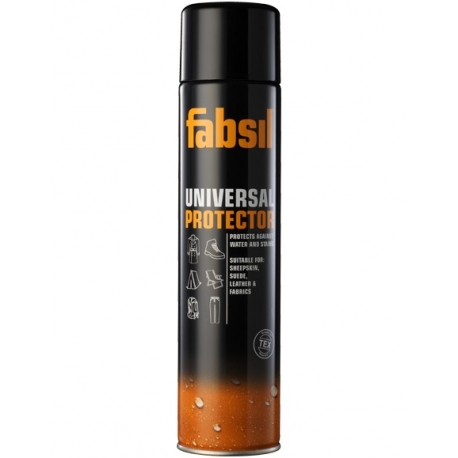 View larger
Impregnat uniwersalny Fabsil Universal Protector Aerosol
Uniwersalny preparat w aerozolu do impregnacji sprzętu turystycznego, butów oraz namiotów.
Pojemność: 400 i 600 ml.
60 Item Items
Produkt w magazynie - wysyłka natychmiast.
Warning: Last items in stock!
Availability date:
By buying this product you can collect up to 7 loyalty points. Your cart will total 7 loyalty points that can be converted into a voucher of 1,40 zł.
More info
Impregnat w aerozolu na bazie silikonu do wszystkich rodzajów materiałów. Rekomendowany do impregnowania tekstyliów, plecaków i akcesoriów turystycznych. Nadaje się do impregnacji , namiotów, plecaków, płacht brezentowych, leżaków, parasoli ogrodowych.
Jeśli zaimpregnowania wymaga większa powierzchnia materiału, na przykład markiza lub duży parasol ogrodowy, polecamy użyć impregnatu w płynie: Fabsil Universal Protector Liquid.
Jak używać impregnatu Fabsil Universal Protector Aerosol?
Przedmiot do impregnacji powinien być czysty, suchy i w miarę możliwości odtłuszczony.
Impregnacji dokonaj w przewiewnym miejscu.
Nanieś impregnat na tkaninę z odległości około 10 - 15 cm
Wytrzyj szmatką nadmiar impregnatu
Pozostaw przedmiot do całkowitego wyschnięcia.
Ostrzeżenia!
aerozol ekstremalnie łatwopalny
pojemnik pod ciśnieniem - zawartość może się zapalić
może powodować senność i zawroty głowy
nie zbliżać do ognia, źródeł ciepła, gorących powierzchni, iskier, otwartego ognia i innych rzeczy, które mogą spowodować zapłon
nie palić tytoniu w trakcie impregnacji
nie pryskać na otwarty ogień i na inne źródła ciepła
nie przebijać i nie palić, nawet po zużyciu zawartości
chronić przed słońcem
nie wystawiać na temperatury powyżej 50 C
chronić przed dziećmi
nie wdychać
używać tylko na otwartym powietrzu lub w dobrze wentylowanym pomieszczeniu
przechowywać w pomieszczeniu dobrze wentylowanym
pojemnik przechowywać szczelnie zamknięty
zawiera butanolan cyrkonu
może powodować reakcje alergiczne