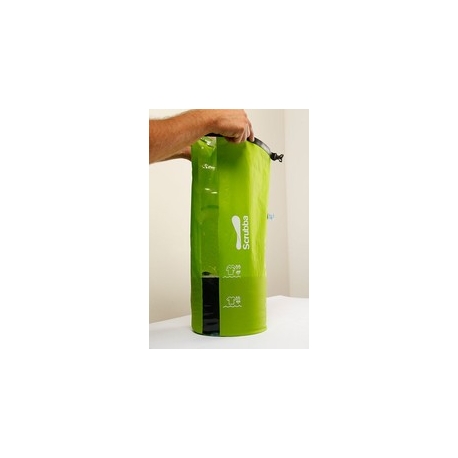 View larger
Wodoszczelny worek - pralka Scrubba
Najmniejsza i najlżejsza pralka świata!
Worek wodoszczelny, służący jako turystyczna pralka. Niezastąpiony sprzęt dla turystów przemierzających świat ale także dla mam, spędzających wakacje ze swoimi dziećmi. Teraz ulepszony i zmodyfikowany - poprawiono zawór i odpowietrzanie worka jest łatwiejsze.
Waga tylko 142 gramy!
46 Item Items
Produkt w magazynie - wysyłka natychmiast!
Warning: Last items in stock!
Availability date:
By buying this product you can collect up to 41 loyalty points. Your cart will total 41 loyalty points that can be converted into a voucher of 8,20 zł.
More info
Czy ty też masz kłopot z praniem w podróży?
Worek wodoszczelny, służący jako przenośna, turystyczna pralka. Wystarczy trochę wody i mydła, żeby twoje skarpetki i koszulki znów były czyste. Nawet w najdalszej podróży ciesz się czystym ubraniem.
Worek służy doskonale mamom, które przebywają na wakacjach ze swoimi dziećmi. Będą się nim cieszyć także turyści, którzy z plecakiem przemierzają świat i noszą cały swój dom na plecach.
W czasie, gdy jest nieużywany jako pralka, może służyć za wodoszczelny worek do przechowywania ubrań w plecaku.
Worek jest ekologiczny, pozwala na pranie brudnych ubrań nie zanieczyszczając wody w potoku lub jeziorze i jednocześnie pozwala na oszczędność wody. Tajemnicą worka są wypustki w środku, które służą za tarkę i doskonale usuwają brud z ubrań.
Waga worka to tylko 142 gramy.
Wymiary po rozłożeniu: 54 x 32 cm.
Sposób użycia:
Wlej ciepłą wodę (maks 50 C) do poziomu oznaczonego na worku, płyn do prania (dbaj o ekologię, użyj mydła biodegradowalnego) oraz włóż brudne ubrania
Usuń niepotrzebne powietrze, zroluj zamknięcie cztery do pięciu razy i zamknij na klamerkę
Odpowietrz worek do końca - otwórz zaworek i ściskając go usuń powietrze z środka worka
Upierz ubrania w worku, pocierając nimi o wypustki.
Wylej brudną wodę z worka (dbaj o ekologię, nie wylewaj brudnej wody do wód bieżących!) i nalej czystej
Wypłucz ubrania
Rozwieś do wysuszenia.