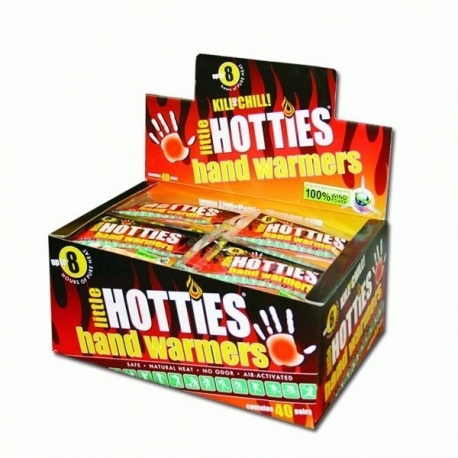 View larger
Ogrzewacz do rąk pakiet 10 sztuk
0751
Chemiczny ogrzewacz rąk w postaci dwóch saszetek. Zapewnia ciepłe dłonie do 8 godzin. Doskonały na zimowe wyjazdy, długie spacery, na narty. Dla każdego, kto nie lubi mieć zimnych rąk i nie chce się zaziębić. Dla całej rodziny.
0 Item Items
This product is no longer in stock
Warning: Last items in stock!
Availability date:
By buying this product you can collect up to 11 loyalty points. Your cart will total 11 loyalty points that can be converted into a voucher of 2,20 zł.
More info
Ogrzewacze nadają się dla każdego. Wkładamy je do wewnątrz rekawiczki. Niektóre rękawiczki mają specjalną kieszonkę na ogrzewacz. Można je także nosić w kieszeni i cieszyć się ciepłem aż do 8 godzin. Opakowanie zawiera dwie saszetki, po jednej na każdą dłoń.
Wkładki do butów aktywują się przez potrząśnięcie: po wyjęciu z opakowania, w kontakcie z powietrzem, w 20 minut rozgrzewają się do temperatury 57 stopni C (wartość średnia). Ciepło utrzymuje się do 8 godzin.
UWAGA! Ogrzewacz może spowodować poparzenia! Nie należy go przyklejać na nieosłoniętą skórę, nie jest to podgrzewacz do dłoni np. podczas snu.
Skład: sproszkowane żelazo, woda, sól, aktywny węgiel, wermikulit.
Opakowanie: komplet 2 saszetek, w pudełku 10 sztuk
Jak działa ogrzewacz LITTLE HOTTIES?
sól przyspiesza reakcję, a węgiel pomaga w rozprzestrzenianiu ciepła

wermikulit to izolator, zatrzymujący powstałe ciepło w saszetce

aktywne składniki znajdują się w opakowaniu z polipropylenu, który przepuszcza powietrze do środka, by mogła zajść reakcja chemiczna, zatrzymując wilgoć, by gorąca masa nie wydostała się na zewnątrz
Efekt: zmarznięte ręce szybko się ogrzeją i przez kilka godzin będą suche i ciepłe.
Zalety:
wkładki rozgrzewające są higieniczne, bo jednorazowe

łatwo je założyć

ogrzewacze chemiczne ulegają biodegradacji

zapewniają ogrzanie rąk na kilka godzin

nie niszczą i nie brudzą ubrań

nadają się dla całej rodziny